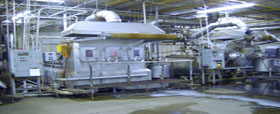 Capabilities & Equipments
With a total of 14 dye machines (pressure jets and soft flow), we have the capability of dyeing a multitude of different fabrics.
A centralized computer hosts the dye machines and communicates with the drug room to ensure proper adjustments. Load sizes range from 150 – 1700 lbs.